« The Republic of Bennett | Main | GM and Chrysler want a few billion more. »
February 18, 2009
You think?
It would be personally and judicially disrespectful to the United States Supreme Court and its justices for me to proceed in this or any other matter involving Massey.

--West Virginia Chief Justice Brent Benjamin
Okay, be hard on yourself, if you must. We almost missed this one on an issue that interests us, and should interest you, too. Especially if, like us, you'd rather spend your time reading the five cases cited in your brief than picking out a really boss Mickey Mouse tie on the morning of your next appearance before a popularly elected state court jurist. The Associated Press reported on February 2 that "West Virginia Justice Bows Out Of Massey Cases Amid Scrutiny".
Apparently, Brent Benjamin's memo announcing the "bowing out" was dated January 30, 2009. In mid-November of last year, the U.S. Supreme Court granted certiorari on whether Benjamin's past refusal to recuse himself from a Massey case, after Massey's CEO had contributed $3 million to Benjamin's successful election campaign in 2004, violated the Due Process Clause of the Fourteenth Amendment. In that West Virginia case, Benjamin had voted with the majority to overturn a $50 million jury verdict against Massey. Reform, anyone?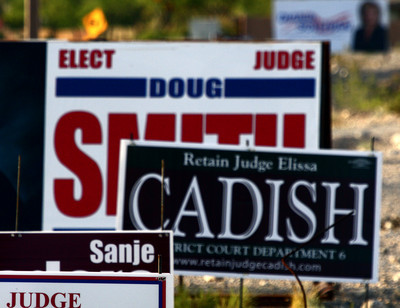 Posted by Holden Oliver (Kitzbühel Desk) at February 18, 2009 11:35 PM
Comments
Post a comment
Thanks for signing in, . Now you can comment. (sign out)
(If you haven't left a comment here before, you may need to be approved by the site owner before your comment will appear. Until then, it won't appear on the entry. Thanks for waiting.)