« Sarah Silverman for Congress: Mixed Marriages. | Main | Quick Reminder: What About Clients/Paris? is No-Wuss Zone. »
December 12, 2010
The Wallace Doctrine: The End of Weenies?
I look to the day when Everyone is at last Offended by Everything and we all can live in Unity, Agreement and Harmony.
Weekend Editor's Note: No one's fool, Wallace is a Renaissance Man, Trial Lawyer and Seer put on earth to make up for some of the rest of us. He is the sole framer of the Doctrine of Universal Affront (stated above). I will named my next-born child after him--even if it's a girl.
Un-Weenie Yourself. But be careful out there. Weenie leaders have spies everywhere. Their agenda? They don't want you to think on your own. It ruins Everything.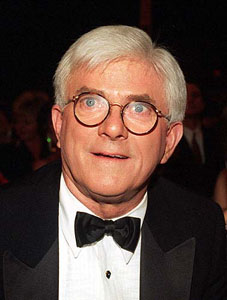 Above: Phil Donahue, Sensitive Guy.
Posted by Holden Oliver (Kitzbühel Desk) at December 12, 2010 10:59 AM
Comments
Post a comment