« Redux - Prof. Bruce Antkowiak: "Why Law Schools Must Reform". | Main | Challenges, twists, prima donnas--and hard work. »
May 11, 2011
Big Moxie: St. Denis, Bishop of Paris.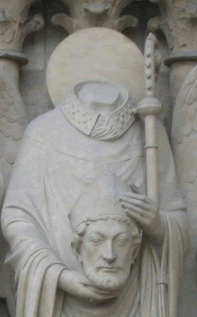 Denis messing with us at Notre Dame left portal.
Talk about drive and persistence. Send his resume. Sounds for sure like he'll stay late sans histrionics. We'd also wager that this is one of Ray Ward's favorite Saints. And for good reason. St. Denis, the martyred Bishop of Paris, is about as interesting as Parisians--and certainly the Clergy--get. His gruesome but spectacular death in about 270 AD during the Decian persecution of Christians gave the hill and district on the Right Bank its current name: Montmartre.
Hopefully, the story is 95% fable. If not, we can safely say that, on his way out of this world, Denis made Rasputin, the lusty booze-crazed 20th century Russian monk and mystic seem, well, a bit mild:
Upon being beheaded, St. Denis picked up his head and carried it for several miles; all the while preaching a sermon. His journey ended at what is now called St. Denis, and a shrine was erected at the spot where he was buried.
From "The Prophets of Montmartre", Ashé Journal, Vol. 4, Issue 1, Spring 2005.
Posted by JD Hull at May 11, 2011 10:59 AM
Comments
Post a comment