« The Economist: Must a U.S. MBA degree take 2 years? (And must our law degree take 3 years?) | Main | More China in Africa: China labor practices in Zambia's mines. »
February 11, 2012
Imperfections: They rarely derail the Way Ample.
Don't let anybody tell you that you never want overweight jurors, or that you always want them -- or that you never or always want any other group. It just isn't true.

--Anne Reed
Fat people aren't jolly after all? We did worry for a while that the heavy-set, the lazy and work-life balance devotees were on the road to becoming quasi-suspect classes requiring intermediate scrutiny under 14th Amendment. Well, we checked this morning and it hasn't happened yet. But what about overweight people as jurors? We kind of like them on juries for defendants: to cut you some slack on petroleum spills, PCB contamination and the occasional insider-trading felony murder.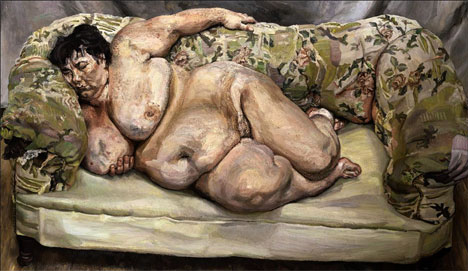 Jurors 8, 9 and 10 on break. Lucian Freud's (1922-2011) "Benefits Supervisor Sleeping"
Posted by Holden Oliver (Kitzbühel Desk) at February 11, 2012 12:00 AM
Comments
Post a comment
Thanks for signing in, . Now you can comment. (sign out)
(If you haven't left a comment here before, you may need to be approved by the site owner before your comment will appear. Until then, it won't appear on the entry. Thanks for waiting.)