« Happy 200th, Boz. | Main | Imperfections: They rarely derail the Way Ample. »
February 08, 2012
The Economist: Must a U.S. MBA degree take 2 years? (And must our law degree take 3 years?)
Probably not, to both questions. See at The Economist "Which MBA? Kellogg School of Management: The 21st-Century Knocks" on Dean Sally Blount's rethinking of things at Northwestern's fine B-school in Chicago. She has some brave and interesting thoughts to share. Quote from her:
...as I look back, 2000-2010 was some kind of worm hole that got us from the 20th to the 21st century. If you had told me in 2000 that in a decade the World Trade Centre would fall from a terrorist attack, we'd go into a number of wars, we would elect a black president and Bear Stearns and Lehman Brothers would vaporise, I would have been stunned.

You can almost see the simplicity of the 20th century in retrospect. Business is still the dominant social institution of our time, as it was in the late 20th century, but it is very different now. The depth of understanding that you cannot separate private enterprise from public policy is far more profound than anyone saw. And that has huge implications on what you do as a business educator.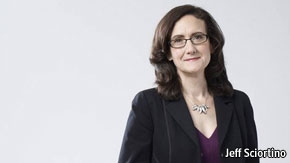 Posted by JD Hull at February 8, 2012 11:47 PM
Comments
Post a comment
Thanks for signing in, . Now you can comment. (sign out)
(If you haven't left a comment here before, you may need to be approved by the site owner before your comment will appear. Until then, it won't appear on the entry. Thanks for waiting.)