« What happens when you think on your own, anyway? | Main | Have a job? It doesn't mean you're smart, Jack. Not even a little smart. »
April 21, 2012
Do Big Clients need Big Law More than 5% of the Time?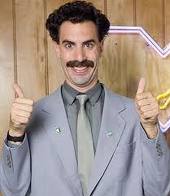 Managing Partner, Astana branch, Big, Clumsy & Talent-Diluted.
About 95% of the important corporate legal work being done right now by firms between 500 and 3000 lawyers can be done by boutiques and smaller firms. If it has the right people, your firm can land Fortune 500 companies and keep them. So remember to get off your knees. Don't forget to maintain or raise your rates. Competing on price for higher-end work is for chumps and will only hurt you in both marketing and client retention. Remember, in this "model", your lawyers and services/products are first-rate, and your client service is superior. Plus: (a) your firm is more efficient, (b) your overhead is likely lower, and (c) your work in any event is better. And there is no "piling on". Find out what the "Big Law" rate or price is--and match or exceed it.
Posted by JD Hull at April 21, 2012 12:59 AM
Comments
Post a comment