« May 2015 | Main | July 2015 »
June 12, 2015
Pantheon: Ms. Mulligan.
Two weeks ago, London-born actress Carey Hannah Mulligan turned 30. She's already a stage and screen standout internationally, and a national treasure in England. Mulligan was nominated in 2009 for an Oscar as Best Actress based on work she did at 23. She is now making audiences smile, laugh, disapprove, gasp, and fall in love with her--together with her three fictional 19th century suitors--in yet another new film version of Thomas Hardy's 1874 novel Far From The Madding Crowd. His fourth novel, this is probably Hardy's best story, and the work that made him famous. If you haven't read it, you're an asshole. Just kidding and making sure you're still reading. If you haven't read it, you're missing something. If you were assigned to read it, and actually did read it in high school or college, read it again. It is at once a study of love, adversity and sudden changes beyond our control or skills.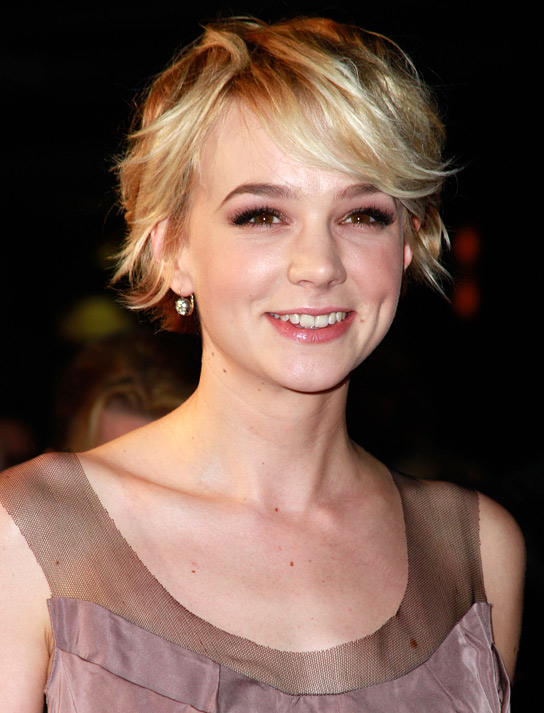 Posted by JD Hull at 11:32 PM | Comments (0)
June 08, 2015
A college roommate's labor of love: Peirce Mill, nearly 200 years in Rock Creek Park.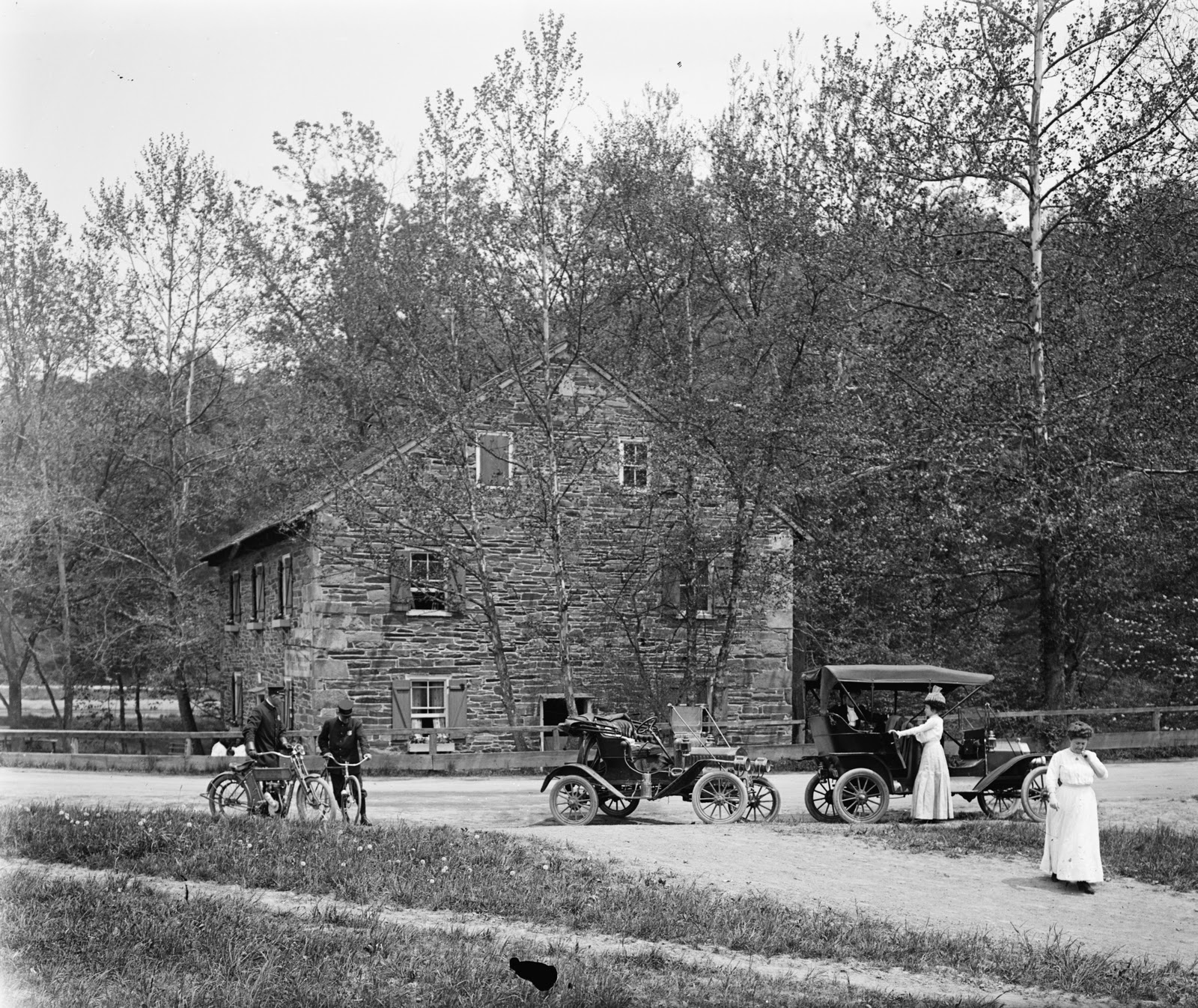 Above: Peirce Mill in 1918. Issac Peirce, a millwright, built it in either 1820 or 1829. The mill runs again where it started: Tilden Street & Beach Drive, Northwest, in Rock Creek Park, Washington, D.C. Journalist and environmentalist Steven Joyce Dryden helped other locals to restore Peirce Mill. He later wrote about the mill and its history in Peirce Mill: 200 Years in the Nation's Capital (Bergamot 2009), 108 pages. Dryden, a former UPI reporter stationed in Europe, is also author of The Trade Warriors: USTR and the American Crusade for Free Trade.
Posted by JD Hull at 09:51 AM | Comments (0)
June 06, 2015
71st anniversary of D-Day.
On June 6, 1944, 160,000 troops from America, Canada, Britain, Canada and Poland landed on a 50-mile stretch of the Normandy coast of France. D-Day was the first day of Operation Overlord, which ended on August 30. Over 29,000 troops were killed in the engagement. Hungarian war photographer Robert Capa (1913-1954) asked to be amongst the first wave on the Normandy beach. Below is one the eleven Capa photographs of the fighting on Omaha Beach which survive, most taken right after landing. The helmeted GI in the water was identified as Private Huston S. Riley, who survived the war and died at age 90 in a Seattle hospital in 2011. Capa was also half-submerged and under fire when he took Hu Riley's photograph. He took another 100 photographs in the next 90 minutes--but they were ruined before being developed back in America. Capa died in 1954 in Vietnam covering the First Indochina War. He was 40.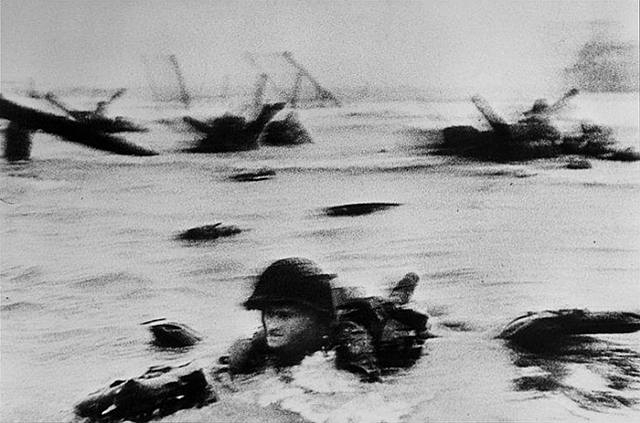 Posted by JD Hull at 08:27 AM | Comments (0)
June 05, 2015
If you can't get online, how do you find a job?
First, see our post Round 2: "One Night, One Person" and related links. As those links show, we're still testing the waters here for what we white collars of four generations might do for people we literally trip over every day in the world's larger business districts. Query: If a motivated homeless person can't get online, how does she find a job? That's, after all, the first place to start these days. Yes, we realize that public libraries have free access to the Net. For years we've all been seeing homeless people in both big city downtowns and "nice" suburbs from New York City to Poway, Rancho Bernardo and Carmel Mountain California, right? But is there enough access and hardware to help everyone who needs it? And for many applications don't doesn't she need a U.S. mail drop, too? For regular mail, there is no Bass Pro family camping version of it, as far as I know.
Hey, I don't like these questions either. But living in the Dupont Circle-Logan area of DC I see about 50 homeless people every day and night. Most aren't crazy, drunks or addicts.* How do I know? I talk to them--which should surprise no one. I talk to everyone. And I know crazies, drunks and addicts when I engage them, folks. Anyway, most I meet are clean, well-clothed and well-groomed given their circumstances. Many are amazingly well-organized, too. So what if a "deserving and motivated" rough sleeper wants a job? Thanks to lawyer's lawyer and my favorite limousine liberal Peter Friedman for the idea, this NYT article and making me more behind in my work for other limousine liberals.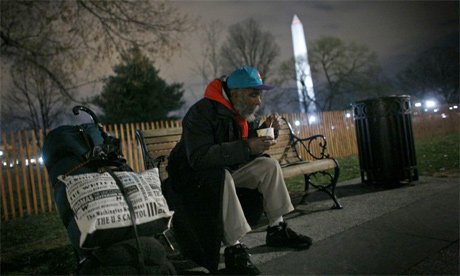 *One technical exception is my "regular" Reggie who I keep giving money to even though I shouldn't. Reggie is funny and bright and about my age--and does admit to drinking but never seems drunk. I think he wants to work. I see him two or three times a week we spend as much as 20 minutes goofing on his cronies who really need panhandling lessons. Reggie is a little too good ("I need you tonight, Dan...") at begging but does buy food with the money he receives outside the P Street CVS. I taught Reggie and his friends a dance a bunch of us made up in high school called the "Philly Dog New Breed" and so far only Reggie can do it. He yells at his friends when they screw up a new free spin I worked into it. I am thinking of taking Reggie to an AA meeting--which he wants to do anyway; he once had 8 years sober--even though he never seems soused to me. Find him a sponsor and maybe get him working.

Posted by JD Hull at 05:49 PM | Comments (0)
June 04, 2015
White Boy Action Wear? Hey, Beavis. Isn't that like, uh, raciest?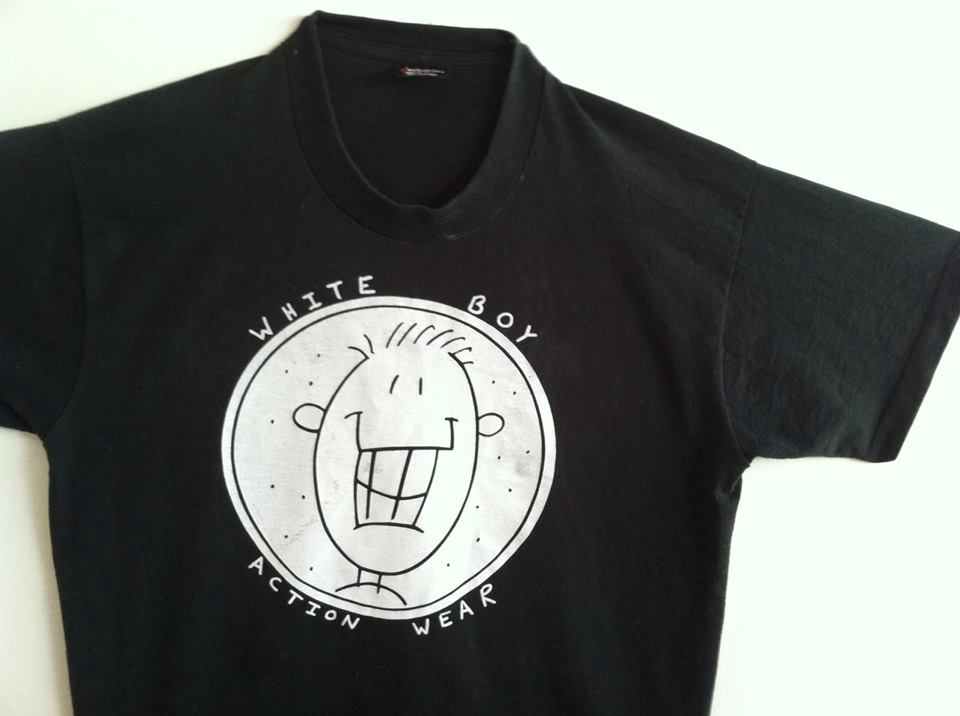 Twenty years ago I started a company called Black Dog to sell tees, sweatshirts, jackets and the like under the name of "White Boy Action Wear". The WBAW logo and "White Boy" (see T-shirt image above) would have appeared on every product.
We shelved the company and the clothing line when we realized something while selling a few items initially to obtain trade and service marks: very few people outside of the largest U.S. cities and some fun (but insular) snowboarding, skateboarding and extreme sports communities (a) "got it"--the name, that is--and (b) felt comfortable with it and the "concept", such as it is. Lots of people said they felt uncomfortable with White Boy Action Wear--the words, the concept, the tee shirt--and in ways they could not always explain to us. Me? I think it's funny (read: hysterical) and always have.
But I'm not everyone. Color me lucky. I've had a fine education. I've travelled. Met people. I even went to debutante balls, including the Bicentennial one at the Idle Hour Country Club in Lexington, Kentucky. I met Phil Donahue once, and he let me park his car. Met a creature named Maeve in Mainz and one called Miss Lucy on Île Saint-Louis. I'm semi-literate but have high standards, hopefully. I already know, for example, that "Flaubert" does not refer to a way to prepare food.
In short, and seriously, I do get, like and prize (a) irony and (2) satire, and usually no matter how edgy. You get the idea.
Help me out:
1. Does, for example, the T-shirt product above offend you?
2. Would you buy it?
3. Would you keep or wear it if it were a present?
4. Would you let your kids wear it?
5. Would you wear it at your country club? An Irish bar?
6. Would you wear it into the "Soul Lounge" in Madisonville, Ohio, a Cincinnati suburb of mainly black (or Afro-American) residents? Or at a mainly white working class bar in nearby the suburb of Norwood?
7. Even if you have no problems with it, and think it's wonderful and funny, what problems do you see other people having with it?
8. Have things (and sensibilities) changed or loosened up enough for people to understand the mild fun and satire connected the "White Boy Action Wear" idea and the goofy White Boy who would appear on every product?
Posted by JD Hull at 01:38 PM | Comments (0)