« The lawyer thing: GCs, do you really need Big, Clumsy & Mediocre in 50 cities Worldwide? | Main | 158-year-old Lehman Bros. will file for Chapter 11. »
September 15, 2008
LawBlog 2008: Tonight, London, The Harp, 6:00 PM.
Finally, the big day. The 2nd annual Brit blogger/IP summit and Extreme Word-Slurring WankFest is at 48 Chandos Place at 6 PM. See GeekLawyer's post. Midnight Antler Dance: Ms. Ruthie as Grand Wazoo; newly-married GL as Lizard King. Special guest: Albion's Hunter Thompson, Charon QC. Most Yanks welcome, mostly.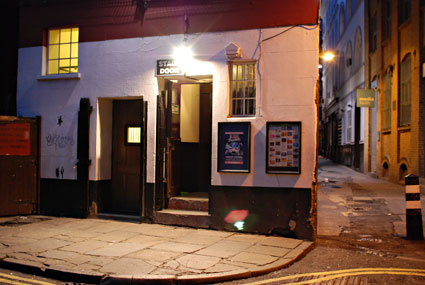 "...saw Lon Chaney walkin' with the Queen..."
Posted by Holden Oliver (Kitzbühel Desk) at September 15, 2008 11:59 PM
Comments
Oh why couldn't I have been born a barrister rather than a lowly American lawyer. I want to revel. I want to see Ruthie as Grand Wazoo. I want to do the Antler Dance, though I'm not sure my back could take it. Why, oh why?
Posted by: shg at September 9, 2008 09:07 AM
Scott, Dan Harris, Ed, Diane Levin, Colin Samuels, Kevin and Rob, Dave Lat:
You should all go to England for this Brit blog thing Monday...take your wife, husband, squeeze...I just invited you. I met GeekLawyer in London last week and he's a thinking person's Outlaw. And a pip and a gentleman and a goddamn seer. So are the other Limey blogger-lawyers.
Posted by: Dan Hull at September 9, 2008 10:30 AM
Take the wives?! Are you nuts! Why spoil a good drinking session. Take the mistress: screw it take both of them. Wives are for that boring ABA conference.
Posted by: Geeklawyer at September 14, 2008 04:10 PM
Whats a Grand Wazoo? Sounds a bit Masonic.
Posted by: Ruthie at September 17, 2008 04:30 PM
Post a comment
Thanks for signing in, . Now you can comment. (sign out)
(If you haven't left a comment here before, you may need to be approved by the site owner before your comment will appear. Until then, it won't appear on the entry. Thanks for waiting.)