« Charon QC's Christmas Art | Main | Scotland's Hogmanay: Staggeringly Cold. »
December 30, 2009
The Economist: Working U.S. Women Officially Rule.
Robert Palmer once sang, persuasively and with brio, that "the women are smarter". We'd add braver, and more motivated. It's bracing to hear we may have new heroes and leaders. Just stay focused on merit. Some worry that the frightened U.S. male worker is steadily losing Moxie, Mojo, and the Ability to Think and Act on His Own. So this is good news. See at this week's The Economist the cover piece "We did it!":
At a time the world is short of causes for celebration, here is a candidate: within the next few months women will cross the 50% threshold and become the majority of the American workforce.

Women already make up the majority of university graduates in the OECD countries and the majority of professional workers in several rich countries, including the United States. Women run many of the world's great companies, from PepsiCo in America to Areva in France.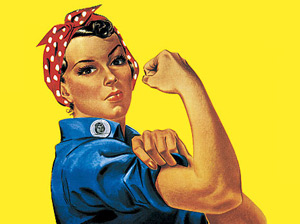 Rosie the Riveter, now in her eighties, has arrived.
Image: The Economist (from J. Howard Miller's WWII poster "We Can Do It!")
Posted by JD Hull at December 30, 2009 11:59 PM
Comments
This doesn't mean Helen Reddy will be doing a remake of "I am woman, hear me roar," right? I don't know if I could take it at my age.
Posted by: shg at December 30, 2009 06:07 PM
Yes--and we will all need to adjust. There will be a new surge of books with titles like "Women Good, Men Bad". No more blond jokes, likely. Associates named Amber fresh out of Duke and Hastings will refuse to pick up your dry cleaning, and cigars. But most of this is good news.
Posted by: Hull at December 30, 2009 07:33 PM
I recently came across your blog and have been reading along. I thought I would leave my first comment. I dont know what to say except that I have enjoyed reading. Nice blog. I will keep visiting this blog very often.
Lucy
Posted by: Lucy at May 7, 2010 02:07 AM
Post a comment