« Property Rights Dissipate in Keystone State: "Police Dude, where's my marijuana?" | Main | Christopher Eric Hitchens (1949-2011): Warrior Essayist. »
December 15, 2011
Russia: More Moxie in The Motherland.
Is the era of the cowed comrade about to end? With a population of over 140 million people, a land mass of 6.5 million square miles and enviable natural resources (including oil and gas) that are important to Europe, the Russian Federation, as a nation-state alone, will continue to occupy a huge role in global economics and politics over the next few decades. But recently (see our recent posts here and here) we've seen what might be the first stirrings in a new consciousness--a sea change in the way Russians feel, think and act--in the ideologically mercurial, troubled Mother Russia of the last 100 years. See by Charles Clover in the Financial Times "Russia's Middle Class Finds Its Feet".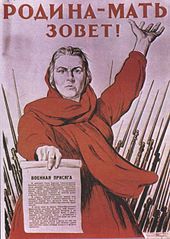 Mother Russia calls for More Attitude.
Posted by JD Hull at December 15, 2011 10:35 PM
Comments
Amazing people - the Irish of the East, indeed :-). (Apropos of the latter, an adaptation of Gogol's "The Government Inspector" into Hiberno-English by Roddy Doyle - he of "The Committments" etc - is currently running at Dublin's Abbey Theatre).
A puzzle, though: the population is falling quickly (or so I am told) and with a burgeoning southern neighbour, I see trouble ahead.
Posted by: FERGUS O'ROURKE at January 12, 2012 02:58 AM
Post a comment